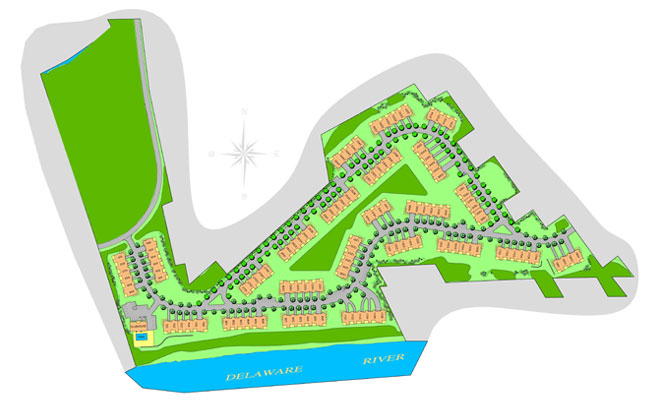 click on image to enlarge
ABOUT PIKE COUNTY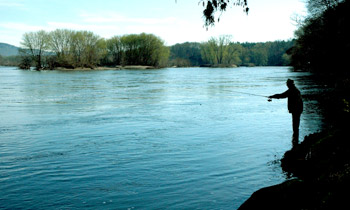 Pike County lies in the northeastern part of Pennsylvania along the Delaware River; it borders partly on New York State and New Jersey. Lake Wallenpaupack, along the county's northwestern border, forms its boundary with Wayne County. The southwestern side lies in the heart of the famed Pocono Mountains. In area, Pike County covers 547.2 square miles including about 13 square miles of water. The County is approximately one-half the size of the entire state of Rhode Island. Pike is one of the top 100 fastest growing counties in the US and the fastest growing county in Pennsylvania. Pike County ranks 92nd with a population estimated at 58,000 in 2006 and has grown 25.7% since 2000.
Many people move to Pike County because it is a beautiful place to live and homes are inexpensive compared to the surrounding counties. Many people who live in Pike County work in a neighboring counties or even commute to New York City.
Pike County was created on March 26, 1814, from part of Wayne County and named for General Zebulon Pike. Milford, the county seat, was probably named for Milford Haven in Wales. Its bluestone and lumber, carried by D & H Canal and by Erie R. R., helped build our nation. The county is famous for its natural beauty. The county seat, Milford, was named one of Pennsylvania's "Prettiest Painted Places" by the Paint Quality Institute. Authors Sara Tuff and Greg Melville named Milford in their book, "101 Best Outdoor Towns." The towns had to be: under 20,000 in population, affordable, within 100 miles of major airport and near a national park, river or trail area.
The first silent movie ever made in the U.S. was filmed in Milford, Pike County in 1912. Mary Pickford, queen of the silent film, filmed The Informer in Milford with producer D.W. Griffith.
The second solar house ever built in the country was in the Delaware Water Gap Recreation Area.
Author Stephen Crane of such works as "The Red Badge of Courage", in the summer of 1891 and for 4-5 years afterward, camped together with a number of friends in Pike County usually at Twin Lakes near Milford. The "Pike County Puzzle" is a product of his 1894 camping experience there.
Chief Thundercloud was from from Dingmans Ferry and is burried in the Dingmans Ferry Cemetery. He was in P.T. Barnum and Buffalo Bill Wild West Show. He also was th esubject of some famous artist in his day. Some have said his likeness was the model for the last five dollar gold piece minted in the United States
Autumn is an especially beautiful time of year because the leaves change colors. Pike County attracks many "leaf peepers" in October. The Cliff Park Inn in Milford was named by Bedandbreakfast.com as one of the 10 great places in the country to settle into for the fall viewing (USA Today, Sept 2006).
The Upper Delaware and Lackawaxen Rivers are the largest wintering areas for bald and golden eagles east of the Mississippi.
President John F. Kennedy delivered the key address at Grey Towers' dedication ceremony in Milford 1963 just two months before he was assasinated.
ABOUT THE DELAWARE RIVER
The Delaware River, the longest undammed river east of the Mississippi, is steeped in history and offers days filled with fun.
Named, literally, for the "high land" on either side of the Delaware River, the region is densely forested and features many waterfalls, as every stream flowing into the Delaware River must cut through the escarpment on either side of the river. A number of large parcels of state and federal property, including two large National Park Service properties, the 69,000 acre Delaware Water Gap National Recreation Area and the 75,000 acre Upper Delaware Scenic and Recreational River.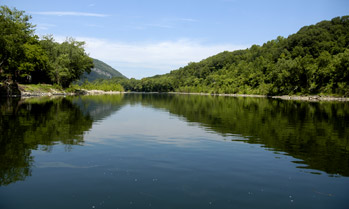 A wide range of outdoor recreational activities--including eagle and birdwatching, hiking, rafting, canoeing, kayaking, hunting, fishing, camping and boating--brings visitors from all over the world to this remarkable river valley. Along the shores of the river are a number of historic villages, hamlets and towns, many of which offer great antiquing, shopping, country markets, historic inns and Bed and Breakfasts, and other attractions.
The River reveals exceptional opportunities to fish, raft, canoe and kayak. There are numerous outfitters in the area, which will supply gear and offer guided tours.
The Delaware River Highlands area offers thousands of places to fish for species such as trout, bass, walleye and American shad. Fishing licenses, available at most sporting goods stores and some town halls, are required for anglers 16 and older. An additional permit is required for trout.
Trout are abundant in most of the fast-flowing cold streams and rivers in the region, including the Delaware and Lackawaxen Rivers. Smallmouth bass can be found in both rivers and the larger of the streams. Walleye are deep-water fish, which can be found in Lake Wallenpaupack. American shad and stripped bass are mostly found in the Delaware River. Largemouth Bass, pickerel and other species prefer the ponds and lakes, like Peck's Pond and Lake Wallenpaupack.

Boat accesses are plentiful and most are free. Not every ramp is suitable for every craft as not every body of water is suitable for every craft. Please pay special attention to signage. Delaware State Forest has 11 lakes and ponds. Peck's Pond has two launch sites. Large power boating is available on Lake Wallenpaupack. Smaller powerboats and watercraft, like canoes and kayaks are ideal for most other waters.